Professional Deep Clean – What is it?
Since the Covid19 Pandemic has hit Ireland as all types of organizations aim to protect themselves, customers, users or members. At McKechnie Cleaning Services we have a designated team for deep cleaning. A deep clean is a complete disinfection and sanitization of the premises. As disinfecting and sanitizing have become the new norm deep cleaning has become an essential clean. In other words a deep clean is what you need. Many are taking extra precautions and so should you.
What do we include in this service?
This is not just a general clean. This is total attention to detail, from top-to-bottom covering all areas while completing the job in a timely manner. You do not have to worry about a thing as McKechnie Cleaning Services employs the best and ensures that all operatives are trained to the highest possible standard. The service can be tailored whether it is domestic, commercial or industrial and rest assured will be completed within budget.
When not using a professional cleaning service on a regular basis, unfortunately not all areas are covered and may be ignored. Our specialists will take care of everything. At McKechnie Cleaning our deep cleaning professionals are aware of not just the overall job but areas that require specific attention.
A deep clean takes three stages: Clean, Sanitize, Wipe Down. Our disinfecting and cleaning service includes complete wipe down with disinfectant and anti-septic solutions in all areas – walls, cupboards, furniture, appliances etc. It also covers stripping and polishing, mopping, total sanitizing of the area, buffering of floors and so on. Our service can be tailored to suit the specific needs of the client.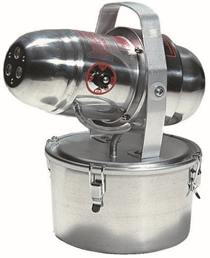 What is Chemical Fogging?
Chemical Fogging or more commonly referred to simply as Fogging is the use of a specially designed, highly advanced sanitising device known in the cleaning industry as the 'Tri-Jet Fogger'. This cleaning device is used by the designated McKechnie Cleaning Sanitizing Team for the purpose of sterilization by means of fogging or atomizing a sanitizing agent across all surfaces. This unit can also be used as a means to moderate humidity in a particular location.
How does it work?
Through combining an adjustable valve and a tornado action nozzle, this allows the user to direct mist up to 9 metres or 30 feet in diameter. The beauty of this device is its versatility as it allows the user fog using both water and oil-based solutions.
Where is it used?
This machine, mechanically generates a sanitizing fog – throughout offices, common areas such as foyers, commercial offices, warehouses, industrial sites in other words all types of buildings – to maximise area coverage and ensure total effectiveness in targeting a wide-range of bacteria, germs, viruses infections and more recently has been shown to be effective against COVID-19. Our Sanitizing team has used this on multiple sites to great effect.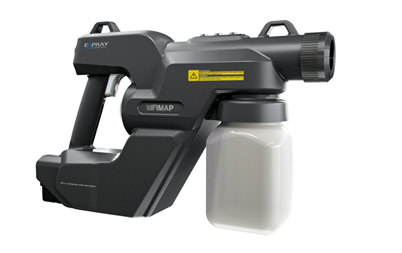 What is Electrostatic Hygienization Technology?
E-Spray as it is more commonly referred to throughout the professional cleaning industry is a professional gun sprayer that uses the principle of electrostatic induction to distribute disinfectant solutions. Powered by a Lithium battery, this is a light and comfort built appliance. It is powered by a lithium battery that allows hygienization for several hours without a cable. Through the electrostatic charge, the drops are attracted to the surface while simultaneously a sanitizing layer is created.
Why do you need the E-Spray Hand-Held Sanitizer?
Disinfecting effectively by hand takes far too long and there are areas you cannot reach. This spray can reach the whole area you target. Advanced cleaning innovation such a this this allows you to target tough to reach areas quickly and effectively on a larger scale than manual wiping and dusting saving you time, effort and money as you are purchasing fewer general cleaning supplies.
How does it work?
An electrical charge is applied to the solution. As the molecules are charged they bounce off one and other, keeping an even distance but still attracted to the surface while at the same time attracted to the surface to be treated. An attraction such as this allows the solution particles to settle wherever they have landed. Particles then settle creating a 360-degree coverage, leaving no empty spaces.
Where can it be used?
• Commercial Offices.
• Industrial & Manufacturing Sites.
• Gym & Leisure Facilities.
• Hospitality Settings.
• Schools & Colleges.
• Restaurants, Cafes, Bars.